Car hire Evry
Car rental Evry with Hispacar.com
With our search portal we can detail the rental vehicles available in Evry listed by the best rate from different rent a car agencies.
Our intelligent software offers you anytime a bargain car hire in Evry,because we are and independent car hire agent. We detail prices and the terms car hire agencies in Evry very detailled preventing unannounced surprises. In order to book a car rental with total confidence we provide secure online payment . We encript all sensible information with secure technology.
Demand a suggestion offer by email or telephone before completing the booking of your rent a car in Evry. If you want to confirm a car rental reservation in Evry we only charge you 10 percent of the total rental rate of the arrangement. This way you are sure of the rental car in your destination. Do you have to put an end to your reservation in Evry? In case you have processed a car rental booking and you need to revoke it you can do so with total confidence without any extra charges.
Our website appreciates the comments of our buyers. That is the reason why we bring out the impressions which we get by email or through our car rental site. Do you prefer a personal approach? By contacting the phone number of our bookings department we can arrange the car hire reservation personally for you.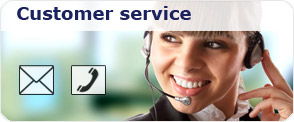 Testimonials
confirmed a rental vehicle with the supplier .
of 5 stars
The thing, which I appreciated in particular about the car rental from Hispacar: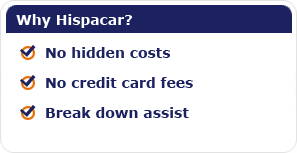 Check rent a car prices from multinational car hire suppliers in Spain.
Copyright © 2010 Hispacar.com All rights reserved.