A traditional country house from the XIXth century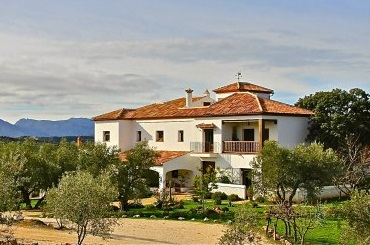 The rural accommodation Cañada del Sacristan is a traditional country house from the nineteenth century, which occupies an area of ​​7 hectares. It is located in Villanueva del Rosario not far from Antequera, in the heart of Andalusia.
Due to its strategic position it is the perfect starting point to visit historic cities such as Antequera, Ronda, Malaga, Cordoba and Granada, which are less than an hour away. So if you are not traveling with your own car, a rental car is recommended.
Nature lovers should not miss a visit to the El Torcal de Antequera nature park with its bizarre karst rock formations, the Garganta del Chorro and the Conde del Guadalhorce lake.
The cottage consists of 4 double rooms equipped with air conditioning, heating and a balcony or terrace with fantastic panoramic views.
The holiday accommodation also offers a library with books in several languages ​​and dozens of maps and guides with information about the area to plan your daytrips or to spend your holidays reading on the terrace next to the pool.
La Cañada del Sacristán is included in the list of 17 best rural houses in Spain in the prestigious travel guide El País-Aguilar.
The house offers a variety of outdoor activities and tours guided by qualified professionals. Among others you can practice horseback riding, climbing, hiking, golf, clay pigeon shooting and quad biking. You can also visit the wine- and craft shops of the Antequera region. One of the most popular tours is a visit to the lagoon of Fuente de Piedra, a bird observation site.
How to contact
La Cañada del Sacristán
Website: http://www.canadadelsacristan.com
Address:
Paraje El Brosque, 29312 Villanueva del Rosario (Málaga)
Telephone:
+34 952 709435
It is recommended to rent a car at the high speed AVE train station in Antequera or at Malaga airport to make the most of your stay in Villanueva de Rosario.