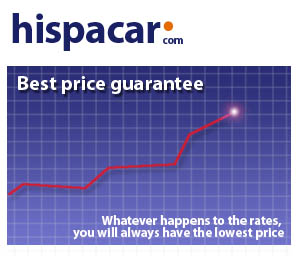 Best Price Guarantee
Sometimes it can be hard to decide when to book your car hire.
Should you book early and make sure to have a rent a car waiting for your when you arrive at your holiday destination? This sounds like a good idea, but sometimes you may be able to book a bargain or last minute offer later in the season.
Should you book late or wait for a last minute offer? This can be risky, because car hire prices are relate to the availability and normally the prices go up the longer you wait with your booking.
With the Best Price Guarantee from Hispacar you do no longer have to worry about this.
If the prices go up, you have already booked at the best price
If the prices go down, you can take advantage of the new rates
Whatever happens to the car rental prices, you will be sure to have booked at the lowest rate.
How do you get your price guarantee.
With Hispacar it is really easy to book your car hire at the lowest price. All you have to do is to make your reservation as early as possible to secure your booking, we will automatically include the price guarantee to any reservation made on our website.
What are you waiting for, book your car now!
the Hispacar Team
www.hispacar.com

(*) Conditions of our Best Price Guarantee
a) Price amendments are subject to availability and can only be guaranteed for vehicles which are marked with the guaranteed available symbol on our website . In case you booked a model which is on request we will have to contact the local supplier first.
b) Only the price payable upon collection of the vehicle will be adjusted, but not the deposit paid.
c) The first price amendment is free of charge, administration fees may apply for any further price amendments.