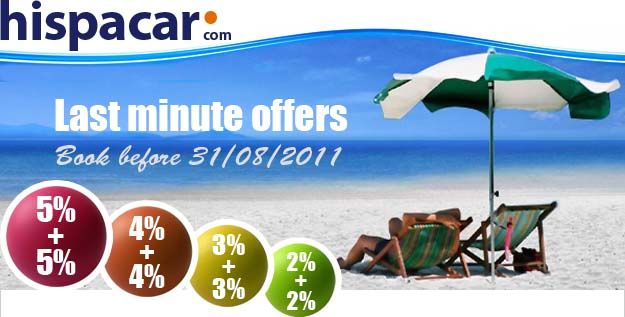 Do you need a rent a car in Spain shortly?
Use promocode HS08-2011 to save up to 10% on car hire in selected destinations like Mallorca, Malaga, Alicante, Canary Islands and many more.
Book before 31/08/2011 to take advantage of this special offer.
Hurry up as long as this offer lasts.
conditions of the special offer.
– the exact discount depends on the model, the destination, the date and duration of the rental.
– the discount is not accumulative with other offers, discounts for regular clients and Facebook fans or the balance of your points with Hispacar.
– 50% of the discount is applied on the rental price at the time of booking.
– the remaining 50% is credited after returning the rental car and can be used for future bookings.
– exisiting bookings do not qualify for this discount.