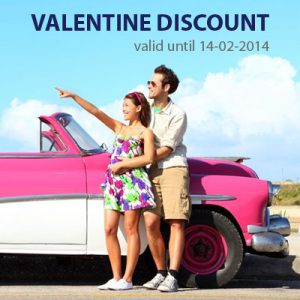 Hispacar has negotiated some exclusive Valentine's Day deals in more than 30.000 destinations worldwide.
By default our searchengine will show the cheapest models first, but you can use the filters on our website to refine your search and find the most suitable vehicle.
You can use the filters to search by price, customer rating, number of passengers, petrol policy, transmission type, car group, optional extras, doors, pickup procedure etc.
There is also a filter for the car rental agent so you can select your preferred supplier from the list of available car hire companies at your travel destination and exclude all other agents.
There are only few days left so hurry up and book before 14.02.2014 to take advantage of this special offer.
Conditions apply. +info