Don't pay for petrol when you rent a car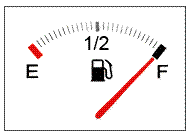 In Hispacar we strive to offer our clients the best car hire price comparison website on the internet.
We have worked hard to adapt our search engine to the most requested service of our clients:
Rent a car without paying for the petrol
If you do not want to pay for the petrol the next time you rent a car online simply mark the checkbox 'full-full fuel policy' on the results page to eliminate all companies who charge petrol upfront and at a price which is usually more expensive than the local petrol station.
To celebrate this news with our regular customers we offer a special discount at all destinations.
Book before 25/12/2012 and take advantage of our special offer.
Don't hesitate and book your car today with Hispacar.
Don't forget to follow us on Facebook or Google+.

Follow us on Google+

Follow us on Facebook