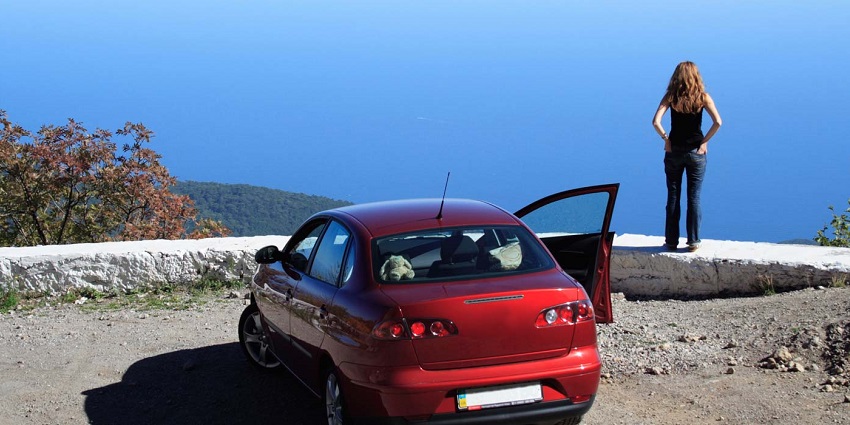 Holiday car hire stands high on the list of priorities of tourists visiting Spain. Travelers prefer not to have to take a taxi every day or simply do not want to depend on Spanish public transport.
Another major advantage of a rental car is, that you can go wherever you want. Of course there are also disadvantages to renting a car in Spain.
Many tourists have had a bad experience renting a car during their holidays and travel forums are full of horror stories from people who feel ripped off, because they ended up paying much more than expected.
One of the main reasons why people feel cheated is, that they just booked the cheapest car available without reading the small print.
A simple search on Google for "cheap car hire in Spain" returns a large number of companies trying to convince us that they are offering the cheapest rental cars at practically every airport or holiday destination in Spain like Barcelona, Tenerife, Alicante or Mallorca.
Is the cheapest offer really the best deal in the end?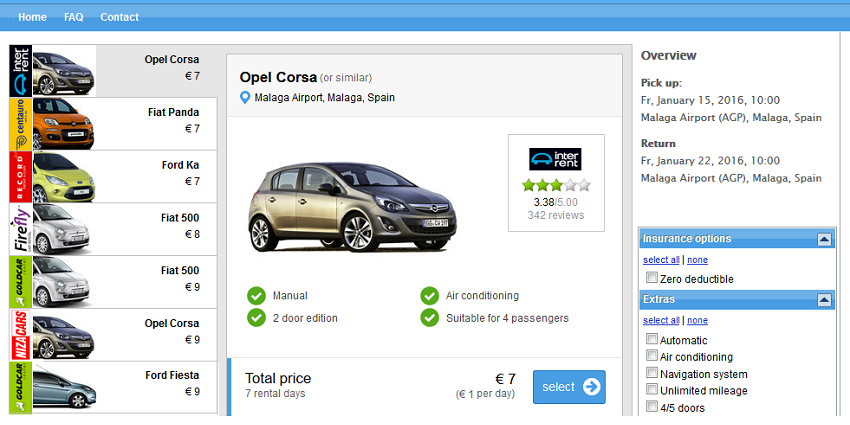 For our case study we will use the example above where a website is advertising car hire in Malaga for just 7€ per week. The vehicle shown is offered by a well-known company on a popular price comparison website.
As you can see the price from Interrent is ridiculously low: just 7€ a week, which is only 1€ per day, 30€ per month or 365€ per year!
And now have a look at the example below of a bicycle rental website in the center of Malaga. Renting a bike with this company has a price tag of 55€ for the same period.
That is almost 8 times as expensive as the price for a rent a car!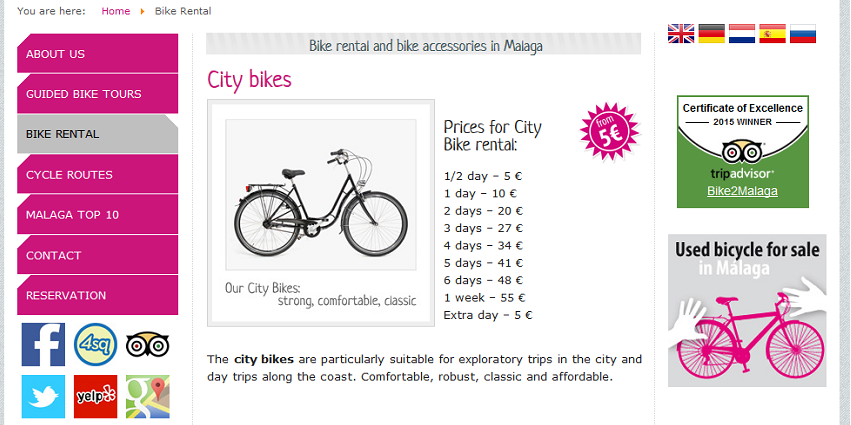 By the way, the price of € 7 from Interrent is no exception. On the left side of the screenshot you can see clearly, that other companies like Goldcar, Centauro, Firefly, Record rent a car or Nizacars also offer such low prices.
Most of these companies do not only operate in Malaga, and similar low prices can be found in other destinations in Spain like Alicante, Mallorca, Valencia or Girona.
Doesn't this sound too good to be true? If new cars depreciate about 20%* the moment you drive them off the lot (which is 3.000€ based on an average sales price of 15.000€) how can these companies offer a car for 365€ per year. Where is the catch?
* http://www.edmunds.com/car-buying/how-fast-does-my-new-car-lose-value-infographic.html
How can car rental be cheaper than bike rental?
Is it really possible to rent a car in Spain for just 1€ per day?  We asked our acquaintances at Easirent LHR car rental and according to them, the 'trick' in this case is, that the rental price of 7€ only includes a basic insurance and a financial risk (also known as 'excess'or 'liability') of up to 1.900 euros in case of damages to the car. This amount will be blocked on your credit card at the time of collecting the car and will not be released until the vehicle is returned without damages.
The only way to avoid paying the deposit of almost 2.000 euros is to book an additional insurance from the local car hire company when you collect the keys. So how much does this insurance cost us?
The comparison website I used for this example does not mention this information, at least I was unable to find it, but when we do a search for car hire in Malaga on the website of the local supplier we can see, that Interrent offers 3 different insurance options; Super Cover, Peace of Mind and Premium Security Package.
So depending on the package the price for the extra coverage ranges between 55,90€ – 139,92€.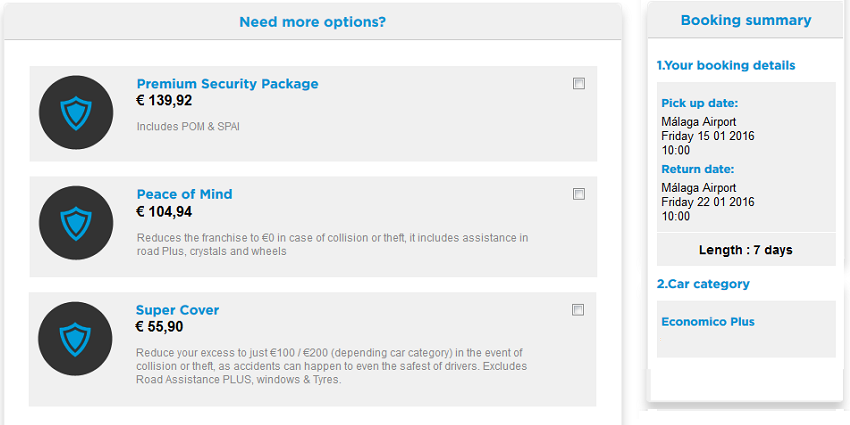 The cheapest insurance is almost 8 times more expensive than the advertise rental price of 7€ and if you choose the most complete coverage the price you pay when you collect the vehicle will be 146,92€. That's 21 times the price you expected to pay when you booked the car!
My advice
If you find a price on the internet which looks too good to be true, there is a big chance that it is indeed too good to be true. In most cases you will end up paying for services which are only mentioned in the small print.
Read the terms and conditions before ticking the check box that you accept them and investigate a bit further if you want to avoid financial surprises or bad experiences.
Here's an interesting article where you can read more about how to avoid unpleasant surprises when you rent a car in Spain.
Many cases of a bad experience with car hire in Spain are due to the fact, that people did not read the terms and conditions before they booked. Taking your time to investigate the rental conditions before you book can safe you a lot of trouble.