villas and rural cottages in southern Spain
The province of Córdoba in southern Spain is an incredible holiday destination. The city itself is smaller than Seville or Granada and also less touristic. All the main attractions in Cordoba, like the Mezquita and the Judería with its small narrow alleys are easily accessible on foot.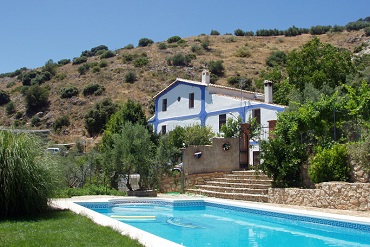 But the province has much more to offer especially for outdoor enthusiasts and nature lovers.
The Sierra Subbética is a beautiful Natural Park with deep valleys and rolling rugged hills. It is strategically situated in the center of Andalusia and within an hour drive you can be in other great cities in southern Spain like Malaga, Seville or Granada. Some of the most beautiful Andalusian villages like Priego de Córdoba, Carbabuey, Rute, or Iznájar are located here.
The densely wooded Sierra de Hornachuelos Natural Park with typical villages like Almodóvar del Río or Posadas lies on the western flank of the Sierra Morena, the natural barrier between Andalusia and Extremadura. It was declared a Biosphere Reserve by the Unesco.
The Sierra de Cardeña y Montoro Natural Park lies on the eastern side of the Sierra Morena. Very few international tourists venture into this wild Mediterranean woodland. The wild remote hills of the Sierra Morena are one of the last refuges of the spanish lynx, a highly endangered species.
If you are looking for a holiday accommodation in Cordoba, have a look at the selection of rural cottages owned by some of our clients. You can also find a lot of information about the most interesting places to visit during your holidays in Spain in our online travel guides.
If you own a property and want to list it in our travel guides please feel free to contact us anytime. If your holiday accommodation is found appropriate we will list it free of charge, provided, that you promote our car rental service on your website in some way.
You can also include our price comparison tool on your website so your customers can compare car hire prices in Malaga, Seville or Granada and find the cheapest rent a car in a quick and easy way.
Rute
Rincon de Carmen is surrounded by a dense olivegrove overlooking the spectacular lake of Iznájar.
Zagrilla
Casateli is a rural accommodation in Zagrilla located near the Sierra Subbética nature reserve.
Las Lagunillas
The rural holiday complex Cortijo La Presa is located in in the Sierra Subbetica near Priego de Cordoba.