A holiday resort situated in Arenas del Rey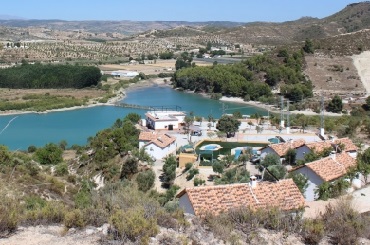 The holiday resort El Molinillo is situated in the little hamlet of Arenas del Rey not very far from Alhama de Granada.
It is only 1.5 km to the entrance of the Sierra Tejeda, Almijara and Alhama natural park and the information office of this natural area.
All units are equipped with a complete kitchen, air-conditioning and television and offer wonderful views of the Sierra Nevada, the Los Bermejales Lake and the Sierra Tejeda.
There is a swimming pool and a jacuzzi in the garden and a playground for families with young children.
The restaurant of El Molinillo offers traditional Andalusian dishes which are prepared with fresh local products from the Poniente de Granada. The restaurant is also a perfect venue for a wedding, a birthday party or an anniversary.
Due to the strategic location of the accommodation, in the Poniente de Granada, it is a paradise for nature lovers. In the surroundings several outdoor sports activities can be practiced: hiking, mountain biking, canoeing etc.
The monumental city of Granada is just 45 kilometers away from El Molinillo. The beaches of the Costa del Sol and the Costa Tropical of Granada can be reached in less than an hour by car.
Guests from abroad can fly to Malaga, Granada and even Seville where they can rent a car to drive to the holiday complex El Molinillo in Arenas del Rey.
How to contact
El Molinillo
Website: http://www.complejoruralelmolinillo.es
Address:
Ctra. GR 3302 km 19.5, Arenas del Rey (Granada)
Telephone:
+34 958 101877
International tourists will be pleasantly surprised with everything the Poniente de Granada has got to offer and are strongly recommended to hire a car upon arrival in Spain