Car hire Reus-Tarragona

Car rental Reus-Tarragona with Hispacar.com
With the search webpage we can give the rent a car available in Reus shown by the lowest price from several car rental companies.
We send out a absolutely suggestion offer by email. If you settle to reserve the car in Reus with Hispacar f in the end you can inform our reservations department by means of the same email. If you pay ten % of the rental price of the arrangement as a down payment for the reservation of the car you are sure to collect the hire car in Reus on the date and time you arrive in Reus. Do you have to cancel your reservation in Reus? In case you have made a rental vehicle booking and you decide to cancel it you can do so with complete conviction without any additional fees.
Search Help
Type in the name of your destination and select an office from the list.
Looking for a car at an airport?
Type in the airport or airport code, e.g. Barcelona airport or BCN.
You can also search for cities, train stations, ports, islands or regions.
If you are having difficulties finding your destination, please check your spelling or use the "prefer a list" option.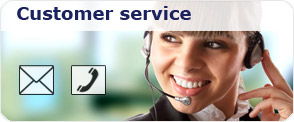 Testimonials
arranged a vehicle with Hispacar with the rental agency .
of 5 stars
The thing, which I enjoyed most of all about the service from Hispacar: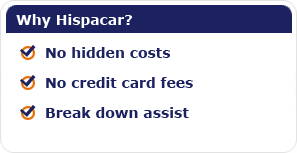 Calculate rental vehicle offers from prestigeous rent a car suppliers in Spain with Hispacar.com.
Copyright © 2010 Hispacar.com All rights reserved.