Car hire Malaga, Alicante, Mallorca

Car rental online with Hispacar
Do you want to rent a car at the best price?
Hispacar offers cheap car hire from prestigious rental companies in popular destinations such as the airports at Malaga, Alicante, Mallorca, Barcelona, Tenerife, Faro, Milan, Rome, Lisbon or Paris in Spain, France, Portugal and Italy.
The search engine compare the prices of different vehicles available and shows the cheapest rental cars in each category. With one click you can compare all the offers and see which is the cheapest car hire company. We work with reputable companies such as Avis, Hertz, Europcar, Sixt, Citer, National Atesa, Maggiore, Aurigacrown, Goldcar, Centauro rent a car, Record, Faycan, Autojardim, Guerin, Cicar, Avia and many other local and international companies from the car hire industry.
Booking your rent a car with Hispacar is your guarantee for a trouble free service when you arrive at you holiday destination. Malaga, Mallorca, Alicante: whatever airport you're flying we will always be able to find a cheap hire car with one of our rental partners. Our website also offers lots of interesting information about the main holiday destinations offered on our website.
Search Help
Type in the name of your destination and select an office from the list.
Looking for a car at an airport?
Type in the airport or airport code, e.g. Barcelona airport or BCN.
You can also search for cities, train stations, ports, islands or regions.
If you are having difficulties finding your destination, please check your spelling or use the "prefer a list" option.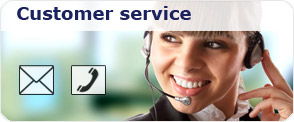 Testimonials
reserved a rent a car with Hispacar with the agent .
of 5 stars
What I appreciated in particular about the rent a car from Hispacar: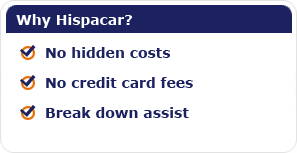 Compare rent a car offers from well known car hire agencies in Spain.
Copyright © 2010 Hispacar.com All rights reserved.