a lovely rural cottage in Valle de Lecrin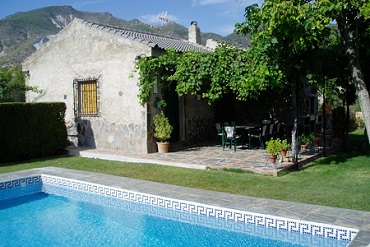 Cortijo Bamel is a lovely rural holiday cottage in Dúrcal in the valley of the river Lecrin approximately 20 minutes by car from Granada.
With two bedrooms and an extra bed this holiday accommodation has a capacity for up to 5 persons. The kitchen is fully equipped with all modern comfort like a fridge and a microwave. The living room has got air-conditioning and features a lovely chimney for the colder winter months.
The swimming pool with sun-loungers is the ideal place to spend the long warm Spanish summer nights in the Lecrín valley. For families with youngsters there is a children playground next to the pool. The finca is surrounded by all kind of fruit trees and almonds and has got a barn with chicken, rabbits and partridges and a small vegetable garden with tomatoes, peppers etc.
The bounderies of the Sierra de Nevada National Park are only 5 minutes away from Cortijo Bamel which makes it the ideal starting point for hikers. Depending on your condition and experience the owners of the accommodation will be more than glad to provide information about Granada and advice about the difficulties of the different walks. For those who wish to discover the Alpujarras a rental car would be essential, because the nearest trails and footpaths are approximately 20 minutes away by car.
The lagoon at Padul, the most important wetland in the province of Granada, is just a short walk away from the holiday accommodation. Cortijo Bamel offers mountain bikes for cyclists or those who would like to discover the Valle de Lecrin by bike.
How to contact
Cortijo Bamel
Website: http://cortijobamel.blogspot.com
Address:
Barriada de Marchena, 18650 Dúrcal (Granada)
Telephone:
+34 644 058867
Booking a rent a car is the best solution for tourists who like walking and hiking in Granada, because the most beautiful trails in the Alpujarras and the Sierra Nevada can be found only at certain distance by car.