Horse trekking in Albuñuelas - Granada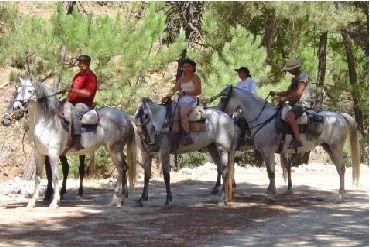 Caballos Palmali organizes horse trekking in Albuñuelas and the Lecrin Valley, one of the most attractive areas of Granada.
The Lecrin Valley is halfway between Granada and the Mediterranean Coast and close to the Sierra Nevada and the Alpujarras. El Valle de Lecrín is a region with typical white Andalusian villages like Albuñuelas, Dúrcal, Nigüelas, Lecrín, Padul, El Pinar or Villamena.
International guests can choose between the airports of Granada or Malaga to get to Albuñuelas. Car hire is highly recommended in these cases, because getting to Caballos Palmali by public transport from Granada or Malaga airport is not easy.
Caballos Palmali has got their own horses. The experienced guides adapt the routes to the capability and the requirements of the customers.
The staff of the company will be more than glad to offer information about rural accommodations in the area. During the tour clients find out a lot about the history of the region and will discover remains left by many of the civilizations who inhabited the valley like watchtowers, castles and aqueducts.
From the back of your horse you can enjoy some of the most wonderful views of the valley and the surrounding mountain ranges. Due to the exceptional climate of the area horse trekking holidays can be booked almost all year round.
How to contact
Caballos Palmali
Website: http://www.caballospalmali.es
Address:
Calle Estación 12, 18659 Albuñuelas (Granada)
Telephone:
+34 958 776081
With the price comparison tool on our website it is easy to find the cheapest rental vehicles at Granada airport and the Lecrin Valley.