Rural tourism in the Lecrin Valley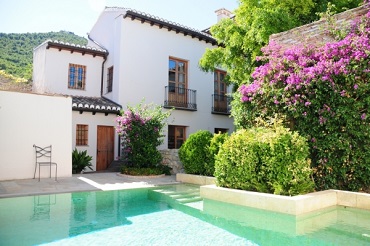 Viasur is a local spanish travel agency specialized in rural tourism in the Lecrin Valley in the province of Granada. The office of the company can be found in Melegis, a pretty little village south of Granada.
Viasur offers a large selection of carefully selected rural houses in the Lecrin Valley and the nearby Alpujarras. The experienced staff of the team ensures that all accommodations are maintend to the highest standards of quality assuring their guesta a perfect holiday in Spain.
Apart from self catering holiday accommodation the agency offers a selection of hotels from small rural hostals to traditional cave-dwellings or hotels located in historical buildings.
The Alpujarras and the Lecrin Valley offer a wide variety of landscapes and a great climate. The area is a paradise for hikers and tourists who enjoy activities in the open. Besides offering practical advice and insider information about Andalusia Viasur can also arrange activities such as quad-bike rental, canyoning, horse riding or skiing in the Sierra Nevada.
For culture lovers the agency can arrange organized excursions and daytrips to Granada or other monumental cities in southern Spain like Cordoba or Sevilla. Travelers who prefer to discover the hidden gems of Spain by themselves can arrange tickets to visit the Alhambra or wine-tasting in a local bodega at the office in Melegis.
Car hire in Granada is recommended if you plan to spend your holiday in one of the typical Andalusian villages in the Lecrin Valley like Albuñuelas, Dúrcal, Restábal, Padul, Nigüleas or Cónchar.
How to contact
Viasur
Website: http://www.viasur-andalucia.com
Address:
Plaza Eduardo Rebollo Aranda 7, 18658 Melegís (Granada)
Telephone:
+34 958 793667