A holiday accommodation in the Los Alcornocales Natural Park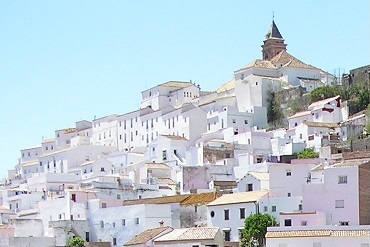 The holiday house Casa de Barbara is located in the andalusian village Alcalá de los Gazules, in the province of Cadiz.
The accommodation is arranged over two floors and has capacity for 4 persons. It is fully equipped with all facilities that makes it a first class site. Living room with TV and dining table and a double sofa bed are on the first floor, as well as the modern kitchen with electric appliances. Bathroom and a twin room are on the second floor; from there, you have great views on the white village itself, the ruins of the former castle, the church, etc.
Casa de Barbara is very close to the highway A-381 that connects Jerez de la Frontera with Algeciras. The airport at Jerez de la Frontera is only 30 minutes drive away and the most convenient way to go to the rural holiday accommodation is by car; you can rent a vehicle at Jerez Airport, where many national and international car hire companies have offices. Gibraltar airport is only 65 km away and from Sevilla airport, it will take you about 1.5 hours to arrive via the highway AP-4.
On your way to the holiday villa, enjoy the beautiful surroundings: Alcalá de los Gazules lies within the Los Alcornocales Natural Park (cork oak groves). Casa de Barbara is a great choice if you love nature and outdoor activities like horse riding, rock climbing, mountain biking or hiking. The most beautiful andalusian beaches are less than an hour's drive by car away; head for Conil de la Frontera and from there, take the road to Los Caños de Meca, where you can relax on one of the beaches on the Atlantic Ocean. A number of surf schools in the neighbourhood offer lessons at the famous beach El Palmar for beginners and advanced surfers.
How to contact
Casa de Barbara
Website: http://www.casadebarbara.com
Address:
Calle de San Sebastián 12, 11180 Alcalá de los Gazules (Cádiz)
Telephone:
+34 610 727185
A limited number of rental companies operate at the port in Algeciras so in most cases it is easier and cheaper to rent a car upon arrival at Malaga or Jerez airport.