the perfect venue for a celebration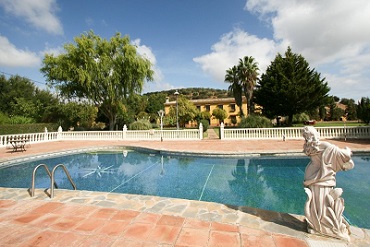 Cortijo Galván is situated almost halfway between Granada and Malaga in the heart of Andalusia and not far from El Torcal de Antequera and the prestigious La Bobadilla hotel.
It is the perfect venue for all kind of celebrations like wedding parties, anniversaries and any kind of corporate event. The extraordinary setting of this typical Andalusian cortijo surrounded by a pretty Mediterranean forest with flora and fauna of all kind is your guarantee for an unforgettable and exclusive celebration, because no other event will take place on the same day.
For guests wishing to spend the night at Cortijo Galván there are two small guest cottages and 4 double bedrooms available. For bigger parties there are a number of hotels and guest houses nearby.
Cortijo Galvan has no exclusive arrangements with any supplier, so you can bring your band or choose your favorite catering company, but the management of the complex can also take care of every service guests may need, including car hire upon arrival at Malaga or Granada airport or provide information about available options.
There are several different spaces available for your celebration, including a garden with swimming pool and a typical courtyard ideal for a cocktail. Cortijo Galván has got a car park with a capacity of up to 150 vehicles. If needed the management can also take care of the photography, car rental and the transportation to and from the nearby airports.
How to contact
Cortijo Galvan
Website: http://www.cortijogalvan.com
Address:
carretera A-333 km 65, 29300 Archidona (Málaga)
Telephone:
+34 606 073905
Allthough car hire can be arranged by Cortijo Galván comparing car hire prices yourself may not be such a bad idea at all if you are looking for cheap car hire in Spain.