A holiday complex in Antequera with three different cottages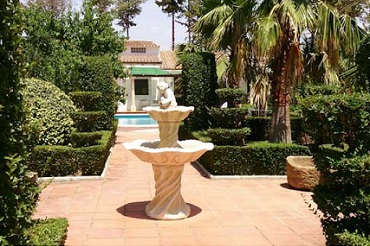 Casas rurales El Canal is situated approximately 15 minutes from the Torcal de Antequera Natural Park and only 10 minutes from the city of Antequera. The AVE high speed train station is only 5 minutes away which makes it an excellent alternative for those tourist who do not want to rent a car in Malaga.
Malaga international airport and the beaches of the Costa del Sol can be reached in only 40 minutes by car.
This little rural holiday complex consists of three different cottages, el Limonar, El Conde and El Canal. The first two have sleep 8 persons each while the second has a capacity of up to 11 persons. The holiday cottages are specially adapted for disabled persons.
Casas rurales El Canal offers two swimming pools, a barbecue area, free internet connection, a lovely garden and sufficient parking space for a couple of vehicles. Customers arriving by train to Antequera can request to be collected from the AVE train station.
The city of Antequera is an ideal daytrip for culture lovers and offers a wealth of interesting monuments. The dolmens of Antequera, just outside the city center are certainly worthwhile visiting. If you are short of time the Cueva de la Menga is probably the most spectacular one.
The nearby El Torcal de Antequera Natural Park offers one of the impressive limestone landscapes in Europe. Some of the caves in El Torcal, contain remnants left behind in the prehistory.
There is a small museum at the car park with information about the local flora and fauna. This is also the starting point of three different trails through the Natural Park.
How to contact
Casas rurales El Canal
Website: http://www.casasruralesantequeraelcanal.com
Address:
Carretera A-384 Km 127 Campillos - Jerez, 29200 Antequera (Málaga)
Telephone:
+34 951 235021
The rural accommodations offers sufficient parking space for customers who hire a car at Malaga airport or at the train station in Antequera