A Child friendly holiday complex in Andalusia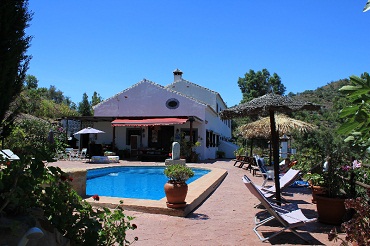 La Molineta de Guaro is a holiday accommodation in southern Spain. The large finca with all kind of fruit trees is located near the Sierra de las Nieves Natural Park. Malaga airport is the main gateway to this part of Spain and can be reached in less than an hour. Car hire is highly recommended as it will save a lot of time and hassle compared with the use of public transport.
The Sierra de las Nieves is ideal for a relaxing holiday, but it is also the place to go for people who enjoy outdoor activities like hiking, 4×4 tracks, mountain-biking, canoeing or walking along the many tracks which can be found in the area.
Little villages in the province of Malaga like Alozaina, Tolox, El Burgo or Yunquera offer an authentic taste of Andalusia. Monumental cities like Ronda, Granada, Seville or Cordoba are also worthwhile visiting.
La Molineta de Guaro is a child friendly holiday complex, because it offers a special swimming pool for children and a playground as well.
How to contact
Molineta de Guaro
Website: http://www.lamolinetacasasrurales.com
Address:
Carretera A366 km 50, 29108 Guaro (Málaga)
Telephone:
+34 661 016512
If you need to rent a car make sure to compare the prices before you book online. Pay special attention to hidden charges, because the cheapest car hire at Malaga aiport may not be so cheap in the end. In case of doubt use a price comparison site like economycarhire, rhinocarhire, or novacarhire.