A traditional ceramic workshop and ethnographic museum in Coin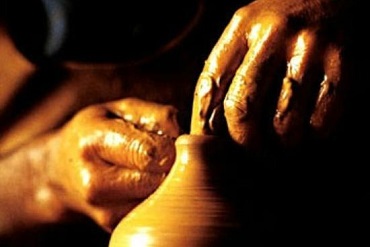 Ceramica Las Vistillas is a traditional ceramic workshop and ethnographic museum in the village of Coin, in the heart of the Guadalhorce Valley, halfway between the western part of Malaga's Costa del Sol and the mountain region of Sierra de las Nieves.
The rural complex Las Vistillas is a place of interest for tourists and anyone who would like to know more about Coin's history and cultural traditions. It consists of an ethnographic museum and interactive pottery workshops, including handicraft classes and lessons about nature, ecology and cultural traditions.
The Provincial Council of Malaga and Coin's local government have converted the former ceramic factory Cumbreras into today's place for educational activities and programs. The family run business that existed since 1700 closed down in the 70's, after the death of the family's last potter.
Since 1989, the creators of Las Vistillas, together with their hardworking professional employees, are reviving this traditional industry of the Guadalhorce Valley. By different activities and guided tours that are offered to individuals and groups, they explain how pottery is made using the potter´s wheel. In the workshops, visitors have the opportunity to try this technique by themselves.
Special educational programms, comprising documentary films, outdoor activities like threshing, guided museum and farm tours, have been designed for students of all ages. Those programms aim to inform about Coin's past, the way of life in Andalusia during the 20st century and make the younger generations aware of their own history.
Spending a day in the countryside surrounded by nature, visitors are also taught about native species of animals and plants, for example a variety of fruit trees, oaks, carob, and olive trees. Medicinal and aromatic plants like thyme, rosemary, fennel and chamomile are cultivated in plots within the vegetable garden. Animals that live on the farm are turkeys, Andalusian donkeys, pheasants, chickens etc.
At the end of the day, the guests should not miss the panoramic views from Las Vistillas on Ronda's mountain range, the Montes de Malaga and the Biosphere Reserve of the Natural Park Sierra de las Nieves.
The whole site and its facilities are available also for meetings and any kind of celebrations.
How to contact
Cerámica Las Vistillas
Website: http://www.ceramicalasvistillas.com
Address:
Ctra. de Mijas km. 2, Urb. Los Montecillos, 29100 Coin (Málaga)
Telephone:
+34 952 451363
If you do not want to waste your time with public transport or spend money on taxi a rent a car is the best way to travel around the province of Malaga and the Guadalhorce Valley.