holiday villas and small rural hotels on the Canaries
Tenerife is a popular holiday destination and welcomes millions of tourists every year. That is no wonder, because the largest of the seven Canary Islands has got something to offer for everyone.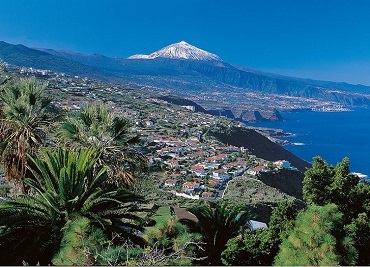 From the breath taking landscape of the Valle de la Orotava in the north west to the sandy beaches in the south and everything in between, like the Teide National Park or the Teno and Anaga rural park, Tenerife has something to suit every taste.
Most visitors of the island will stay in the coastal resorts in the south like Costa Adeje, Los Cristianos or Playa de las Americas. People who prefer a more relaxed type of holiday may choose traditional holiday resorts like Puerto de La Cruz or Los Realejos in the north.
The island also offers a large choice of typical rural accommodation in places like Icod de los Vinos or Garachico in Isla Baja, in the northern part of Tenerife.
Tenerife is a paradise for all kinds of watersports like sailing, surfing, swimming or scuba diving. Because of the excellent climate outdoor activities like hiking, golfing, horse riding, mountain biking and all kind of sports can be practised all year round.
A holiday on the island is not complete without a visit the dormant volcano of Mount Teide, the highest point in Spain. The unique landscape of the National Park with colorful lava fields and volcanic rock formations is an UNESCO World Heritage site.
If you consider spending your holidays on Tenerife take a glance at the rural cottages and small hotels on our accommodation page. Our travel guide about Tenerife also offers a lot of information about the most interesting places on the island.
If you want to promote a property on the island in our travel guide please feel free to contact our marketing department whenever you like. If your holiday accommodation on Tenerife is considered a valuable asset for our customers it will be included completely free if our car hire comparison tool is mentioned on your website.
You can also include our search engine on your website so your customers can find cheap car hire on Tenerife at Reina Sofia and Los Rodeos airport or any other popular holiday destination on the island.
Accommodation
Tejina
Finca Picacho is situated close to the Anaga en Teno nature parks in a beautiful valley between the villages of Tejina and Tegueste.
San Miguel de Abona
Vera de la Hoya has been completely restored and converted into a holiay accommodation with all modern amenities.
Fasnia
The rural holiday accommodation Casapancho is located in La Zarza, a village in the municipality of Fasnia in the south of Tenerife.
Los Realejos
The rural holiday accommodation La Gañanía is located in the Orotava valley conveniently close to the center of Los Realejos.