a holiday accommodation awarded with the Q for Quality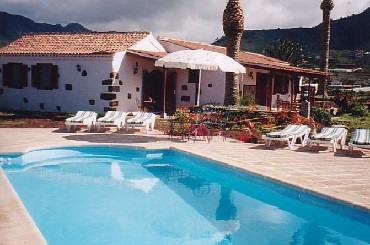 Finca El Picacho is situated on the island of Tenerife in a beautiful valley between the villages of Tejina and Tegueste and close to the Anaga en Teno nature parks.
The nearest airport is situated at Los Rodeos which is only 10 kilometers from the accommodation. Most international clients will arrive at Reina Sofia airport in the south of the island which is some 75 kilometers by car, hence car hire on Tenerife is essential to get to the finca. Many reputable multinational and local car rental companies offer their services here and it is easy to find a bargain.
The finca of 60.000 m2 offers a private trail to the top of the Picacho de Los Lazaros a natural area rich in flora and fauna, in the middle of vineyards and fields full of crops on the northwest coast of Tenerife.
Finca El Picacho is perfect for holidays with children. The gardens are equipped with a playground for the children and offer outdoor activities like volleyball, hiking, climbing etc.
The swimming pool is equipped with a countercurrent swimming device and a telescopic cover for cloudy days. The whirlpool and the solarium, where guest can enjoy a barbecue complete the outdoor installations of the accommodation.
The old stables of the finca have been restored and can be used for meetings or events. There is a small library with information about Tenerife, a ping-pong table and games and videos for the children.
Day tours to the Teide volcano, the Orotava Valley or Santa Cruz, the capital city of the island of eternal spring are certainly worthwhile considering.
Finca El Picacho has been awarded the Q for Quality (Calidad Turística Española).
How to contact
Finca El Picacho
Website: http://www.fincaelpicacho.com
Address:
Camino de los Mohos 8, 38260 Tejina (Tenerife)
Telephone:
+34 922 259506
Car hire companies on the island like Cicar, Autoreisen, Faycan, Orcarcanarias y Cabrera Medina offer a wide selection of vehicles at affordable prices