A charming hotel built on the remains of a former olive mill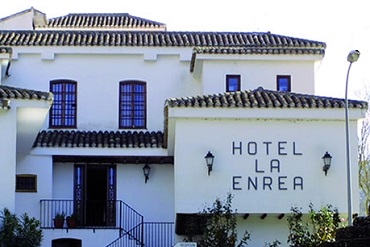 The Hotel La Enrea is situated in the picturesque village of Montefrío in the Poniente Granadino. The hotel is built on the remains of a former olive mill in a typical Andalusian style with wooden doors and wrought iron.
The rural hotel has 19 rooms, all fully equipped with all modern comfort and an individual decoration offering spectacular views of the little village.
The hotel is surrounded by olive groves and just 200 meters away the guests will find the steep and cobbled streets of Montefrío, a little white village part of the Washington Irving route in remembrance of the historical journey through Andalusia of the famous American writer.
For guests arriving from abroad renting a car upon arrival at the nearby airports of Granada or Malaga may be worth considering, because there is so much to see and do in the area for which a rental vehicle is basic and a lot more convenient than public transportation.
The location in the center of Andalusia makes it a perfect setting for visiting cities like Granada, Cordoba or Seville. The nearby sierra Nevada and the costa del Sol are ideal for a daytrip to the beaches in summer and the skislopes in winter.
How to contact
Hotel La Enrea
Website: http://www.laenreahotel.com
Address:
Ctra.Tocón s/n, 18270 Montefrío (Granada)
Telephone:
+34 958 336662
if you want to fully enjoy your stay in Montefrío car hire is essential, especially if you would like to discover the beautiful countryside of the province of Granada or nearby villages like Íllora, Loja or Alhama de Granada.